Welcome to Shea Body...From Hair to Toe!!!

4 Different sizes to choose from
Welcome to Shea Body...From Hair to Toe!!!
Creamy like Frosting
4 Different sizes to choose from
---
The creation of Shea Body....
In 2019 while attending an event, I had a desperate need for lotion. To my surprise, my sister introduced me to organic Shea butter. It was a lifesaver working wonders and lasting the entire night of dancing. I was impressed by how it maintained the shine and softness after dancing in heels for hours. I researched to find out more about this amazing phenomenon. Through creating and failing several times, I decided to modify the typical method used to create Shea Butter. The end result produced a light, soft and silky product. I've been able to master the look of frosting, the scent of heaven and the accuracy of a well tailored suit.
All Butters are made with: 100% African Shea Butter, Organic Coconut Oil, Olive Oil, Vitamin E, Essential Oils and LOVE!
VERY IMPORTANT: Shea Body is heat activated and will melt if left in heat. To ensure you get Shea Body in the same consistency it was made in, please check your tracking for delivery so your package isn't left outside for any period of time. Store in a cool and dry place.
---
Scent of the Season
Not quite sure what scent you want? Try the Scent of the Season!!!
Every season (3 months) we will feature a new scent that fits best for that season!!
Goodbye Summer and Helllllo Fall! Our scent of the season is Vanilla Amber and Autumn Wreath ....grab yours today!! 
Vanilla Amber is a perfect blend of Vanilla which has the sweet and rich aroma paired with Amber that evens it all out with the warm, powdery and musk scent!!
Autumn Wreath is the perfect Fall scent with notes Cinnamon, Clove, Nutmeg, Wood and Vanilla.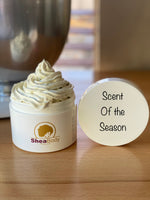 About the owner
Ms. Christine Bradley is a proud Mother, daughter, sister and friend. Christine believes that superior customer service coupled with delivering a product that exceeds the customers expectations is the only way to do business. Mrs. Bradley adopted the, "Do it your own way, learn from others but follow your own path" early during her twelve year career with Enterprise Holdings, Inc. This helped foster and solidify her mantra of, "DON'T STAGNATE, INNOVATE!" This is the driving force behind SHEA BODY and we will continue to focus on quality, service and value! Mrs. Bradley is also a proud member of Zeta Phi Beta Sorority, Inc. and believes in sisterhood, scholarship, finer womanhood and service!